Work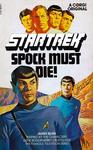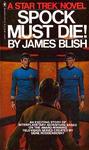 Spock Must Die!
wd:Q7578767
Spock Must Die! is an American science fiction novel written by James Blish, published February 1970 by Bantam Books. It was the first original novel based on the Star Trek television series intended for adult readers. It was preceded by a tie-in comic book line published by Gold Key and the novel Mission to Horatius by Mack Reynolds, all intended for younger readers.Blish aimed to kill off a popular character as a way to surprise readers, and during the novel's production chose Spock, with the aid of his wife, J.A. Lawrence. Reviews of the novel have been mixed. Some reviewers have directed criticism at the structure or tone of the novel, while others have expressed no enthusiasm for the work, overall.Spock Must Die! was reprinted numerous times with different cover art, including a cover by Kazuhiko Sano. The novel was collected in an omnibus for the Science Fiction Book Club in 1978. Prior to the release of Spock Must Die!, Blish had written three collections of short stories adapting episodes of the television series. The second collection, Star Trek 2 (February 1968), included an adaptation of the episode "Errand of Mercy", which the novel directly references in the second chapter.
Read more or edit on Wikipedia
part of the series: Star Trek
original title: Spock Must Die!
language: English
date of publication: 1970
based on: Star Trek: The Original Series
genre: science fiction novel
main subject: Spock
characters: Hikaru Sulu, James T. Kirk, Leonard McCoy, Montgomery Scott, Spock, Uhura, Christine Chapel, Pavel Chekov, Janice Rand, George Kirk, Trefayne, Ayelborne, Claymare
followed by: Spock, Messiah!

Welcome to Inventaire
the library of your friends and communities
learn more