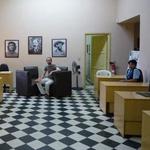 coccola
My interests vary from history, shamanism, nature, pedagogy, art, satire, drama, ethnography, politics, philosophy, extreme sports, artisans to science. So a bit of everything I guess...

I have given away all the books I ever possessed, because I virtually never read the twice. And they are so heavy! Totally unfeasible to my nomadic life. I love the service of libraries.
So thank you, developers of inventaire, to get us connected.